InSpec by BV
InSpec by BV is a new innovative quality management platform, leveraging the global network, experience and heritage of Bureau Veritas. Through driving awareness as to the value of quality within the industry, we aim to reduce the level of returns through quality, increase the percentage of products shipped on time and improve finished product quality levels. We do this though a world class customer experience, from industry insights to a fast and intuitive online experience to a same day report.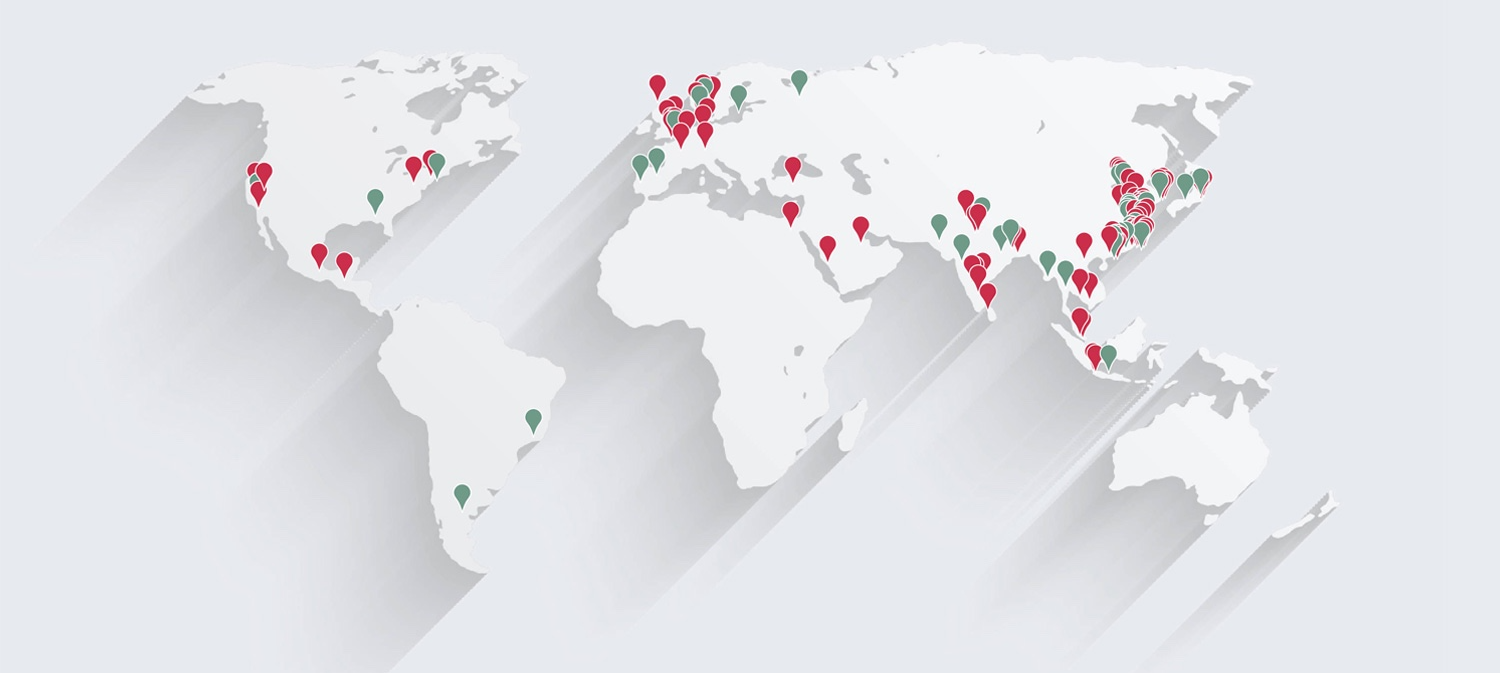 GLOBAL FOOTPRINT
Bureau Veritas has over 12,000 TIC (Testing, Inspection and Certification) specialists including inspectors, auditors and lab professionals located in all the major sourcing and selling regions. With rich consumer product knowledge, we help verify your product meets the safety and quality requirements for your destination market, and your factories maintain best in class process controls around quality, security, social and environmental compliance.
Our product inspection and audit team all undergo many weeks of intensive training before they first carry out field based services, and all have experience of different types of manufacturing. We also have yearly refresher courses on the latest technologies and processes affecting our clients. With over 1,000 full time inspectors and auditors all over the world, we are a knowledgeable and trustworthy extension of your organization in the supply chain.
100+
Coverage across 100 countries & 5 continents
400,000+
Inspections and audits carried out every year
1,000+
Full time inspectors and auditors
OUR VALUES
TECHNICAL LEADERSHIP
Global business processes. Governance for harmonized approach. Repeatability of results globally.
Regulatory review process. Dedicated research center. Knowledge of 100+ countries covering 80+ product categories
Technical leadership around product and supply chain performance improvement
LIMS operating platform used worldwide with global access to information driving fast and effective performance improvement
CLIENT ALIGNED
Account management/BD teams aligned with clients globally. Partnership model drives client focused service delivery throughout the supply chain.
Skilled and knowledgeable technical and commercial leaders from within the supply chain - advice on best practice adoption
Consultation on regulatory evolution, new markets, technical requirements, best practices, program benchmarking, …
Program Service Delivery. Monitors program performance and quickly resolves issues.
Fair & competitive pricing
DECISION SUPPORT SOLUTIONS (ANALYTICS & INSIGHTS)
OneSource Suite. Provides informed and real time QA /supply chain analytics and decision support. Industry leading online quality management platform to the world's leading retailers, brands and their supply chains
InSpec by BV. Global ecommerce platform for QC inspections featuring: 1-minute booking flow process, resource rich insight center, next day booking with same day report and all-inclusive pricing
Analytics by BV. Our Analytics program provides real time decision support supply chain performance information on quality, cost, consolidation & speed
OPERATIONAL EXCELLENCE
World Class Service Delivery. Client aligned KPIs. Visible scorecards. 
LEAN within DNA. Eliminating waste. Leveraging digitalization
Speed to Market. Client aligned TET. Online booking. Same day report. 24/7
Global Consistency. Inline QC, quality audits, scorecards, NPS
Transparent Incident Management Process
Global Footprint. 130+ labs / offices aligned to sourcing/selling shifts
5 Sigma. Confidence in our quality yield
Committed to safety, integrity & ethics. All BV staff / stakeholders trained (Link to Policy)