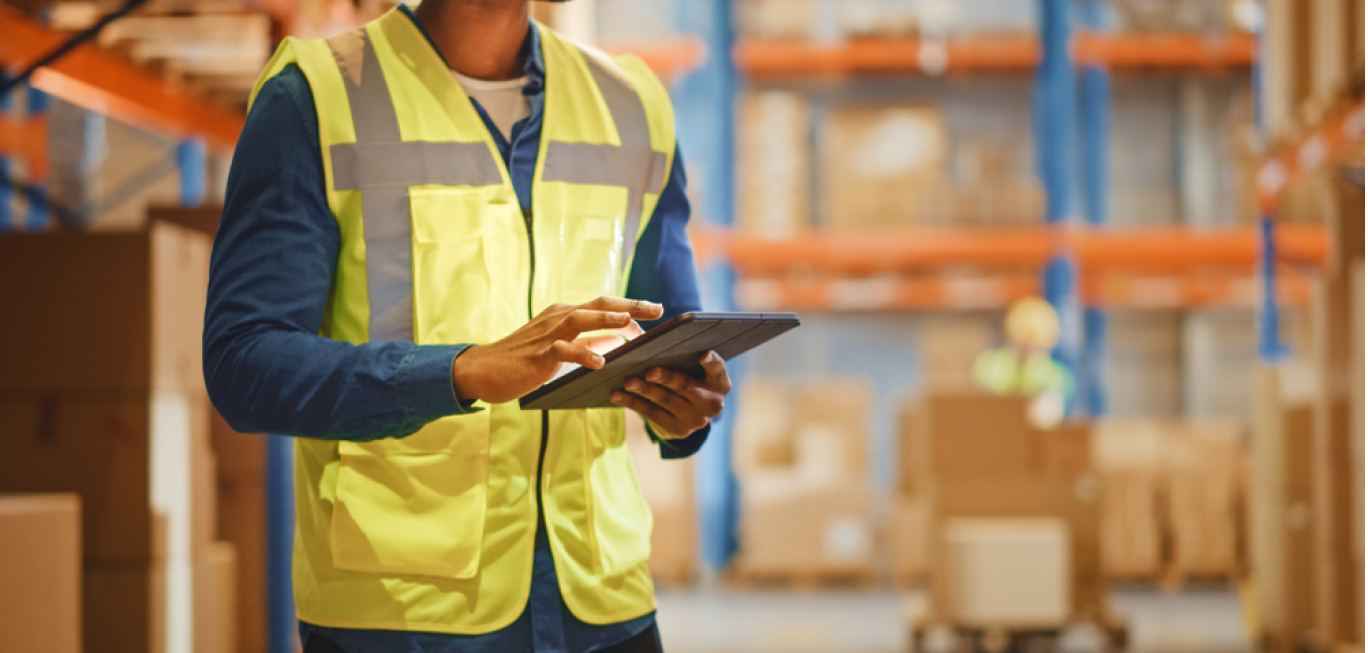 STARTS FROM $188 USD PER MAN DAY
In today's competitive marketplace, ensuring product quality is more important than ever for Quality Control Professionals and Business Owners. This article aims to provide you with the necessary information to make better decisions when it comes to selecting an inspection service. 
Product inspections play a crucial role in reducing product returns due to defects or poor quality, which can significantly impact your bottom line. By choosing the right inspection service, you can effectively reduce return rates, maintain profitability, and ensure customer satisfaction. 
In this guide, we will explore various types of inspection services and offer insights into how to select the most suitable one for your business and products, so you can stay ahead of the competition and continue to thrive.

Understanding Product Quality Inspections 
What is Product Inspection?
A product inspection is a systematic process of examining and evaluating products to ensure they meet the required quality standards. It involves checking the products against a golden sample or predefined criteria such as design specification, materials, dimension, functionality, packaging and more. Product inspection can be conducted at various stages of the manufacturing processes. 
At Bureau Veritas, our inspection services are performed based on our best practices and decades of experience from assessing millions of products and factories, all carried out by our trained inspectors. All our inspection protocols are optimized to meet today's challenging consumer requirements. 
The Main Objectives of Product Inspection
The main objectives of product inspection are to identify defects, non-conformities, or potential quality issues before the products reach customers. This helps main the reputation of the brand, reduce the risk of product returns or recalls, enhance customer satisfaction and eventually protect companies' profitability. 

The Scope of Product Inspection
The scope and inspection are determined by the product types and mostly cover below elements:
Inspection conditions: product status, carton stacking, shipment quantity, etc.
Packaging and assortment: carton packing, product packing, and assortments such as color/styles/sizes.
Product conformity: Style, materials, colors.
Workmanship: appearance, basic functions, check by visual, hands, smell, and sound.
On-site test: barcode verification, measurements, weight, functionality, etc.
Shipping marks: printings, warming and symbols.
Labeling: labels, markings, etc.
Custom requirements: if you have specific requirements for your products, our support team will tailor the inspection checklist accordingly. 
These inspections can help identify potential issues early on, allowing manufacturers to rectify problems before they escalate, reducing risks, and ensuring customer satisfaction. 

Key Benefits of Product Inspection
Maintain product quality and consistency
Ensure compliance with industry standards and regulations
Mitigate risks and minimize product recalls
Protect your brand reputation
Enhance customer satisfaction and loyalty
Protect your profitability as the return rate is reduced
Improve supplier accountability and drive improvement.  
Got questions? Send us a message.
Deep Dive into Different Product Inspection Services
Initial Production Inspection
An Initial Production Inspection (or Initial Production Check) is performed at the beginning of mass production. It ensures the initial production process has been maintained and the products being produced continue to meet quality requirements, especially in the case of new raw materials, new operators, production lines, or specification changes.

Benefits of Initial Production Check
Verifying quality at an early stage
Ensure quality conformity and consistency
Minimize risks of wasted time, scrap product, rework, and shipping delays that may occur at the later production stage.
During Production Inspection
A During Production Inspection (DUPRO) is conducted while the product is being manufactured, usually when 40-60% of the production is complete. This inspection evaluates the quality of the products being produced in the middle stage of the production process.

Benefits of During Production Inspection
Ongoing monitoring of product quality in the production processes 
Timely detection of issues, allowing for immediate corrective action
Minimizes production delays
Pre-shipment Inspection
A pre-shipment inspection (known as Final Random Inspection) is performed when production is completed and most of the products are packed for shipment. The primary purpose of a PSI is to verify that the final products meet the required order quantities, quality standards, and specifications (i.e. color, workmanship, label, function, fit, packaging of the products, etc.) through workmanship inspection and on-site test. Pre-shipment Inspection is the most popular type of inspection service for businesses worldwide.

Benefits of Pre-shipment Inspection
Provide visibility of the shipment quality, to support clients in making informed decisions about whether to accept the shipment.
To catch shipment quality issues before shipping. It helps to build confidence in shipment quality for clients and reduces the cost of failure in a later stage. Also, avoid disputes between clients and suppliers.
Use the inspection report to communicate with suppliers and drive factory quality improvement, especially when there's a dispute about fabric quality between garment manufacturers and fabric suppliers on quality.
Container Loading Supervision
A Container Loading Supervision is conducted during the container loading process of products. This inspection ensures that the correct products and correct quality are loaded and that the products are properly loaded in containers with optimal conditions.

Benefits of Container Loading Supervision
Verification of product quantity, packaging, and container condition
To reduce the risk of tampering, theft, and substation to the products exported and imported, and avoid disputes on quantity and product integrity.
Reduces the risk of product damage during transportation because of container conditions e.g. issues such as water leakage, and mold.
Full Inspection
Full Inspection (known as 100% inspection, or piece-by-piece inspection) is a unique quality control method that helps ensure each product's quality before shipping by checking every single product, instead of using AQL for a random sampling check. Generally, Full Inspection focus on the workmanship and basic function of the products. Bureau Veritas can also perform an on-site test according to the customer's requirement.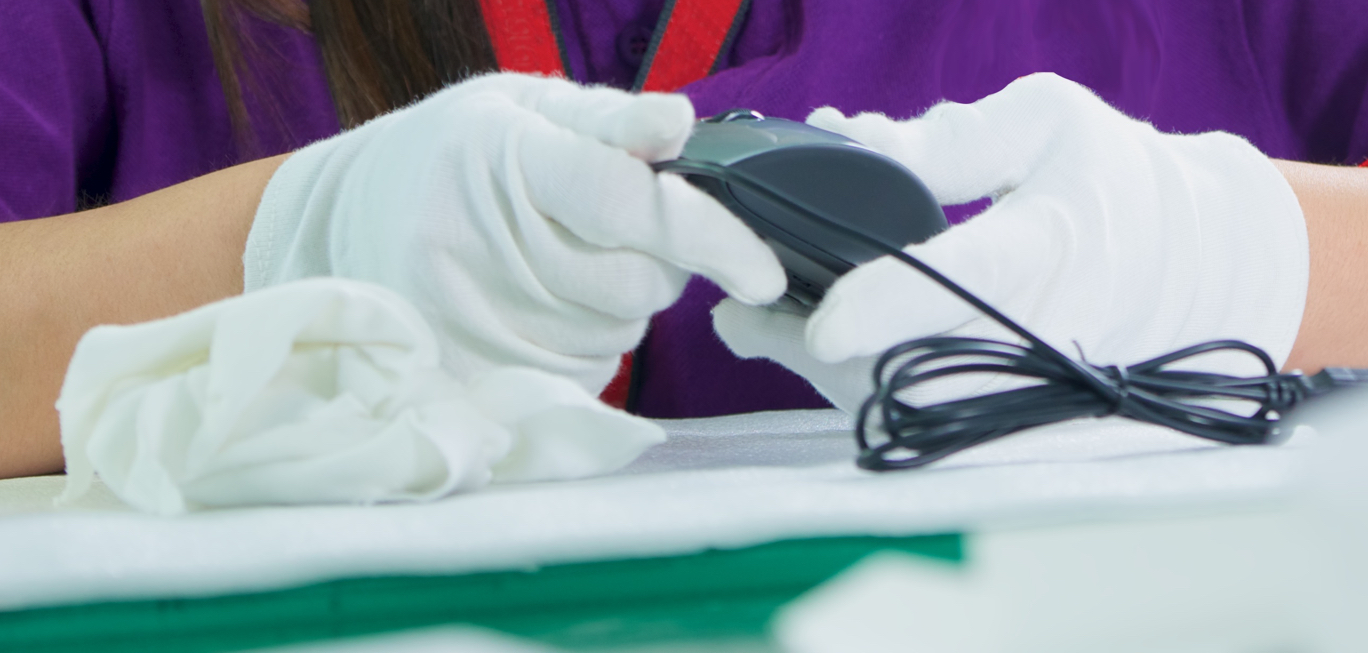 Benefits of Full inspection
Full Inspection is likely to significantly reduce the product return rate as every product is inspected by our inspectors. If you are selling high-value and delicate products or each product return can impact your profits, Full Inspection is a good option to help you mitigate the risk.
If you are ordering a small quality product from China to test your product idea, the cost of full Inspection is reasonable and helps you ensure the quality of every single product. With better product quality, you can assure you can validate your product idea fairly.
You have a better understanding of the capability of your supplier for your product production and whether you can work with them in the long run.
You can potentially increase customer satisfaction, reduce product returns and protect your profitability.
 
Comparing Inspection Types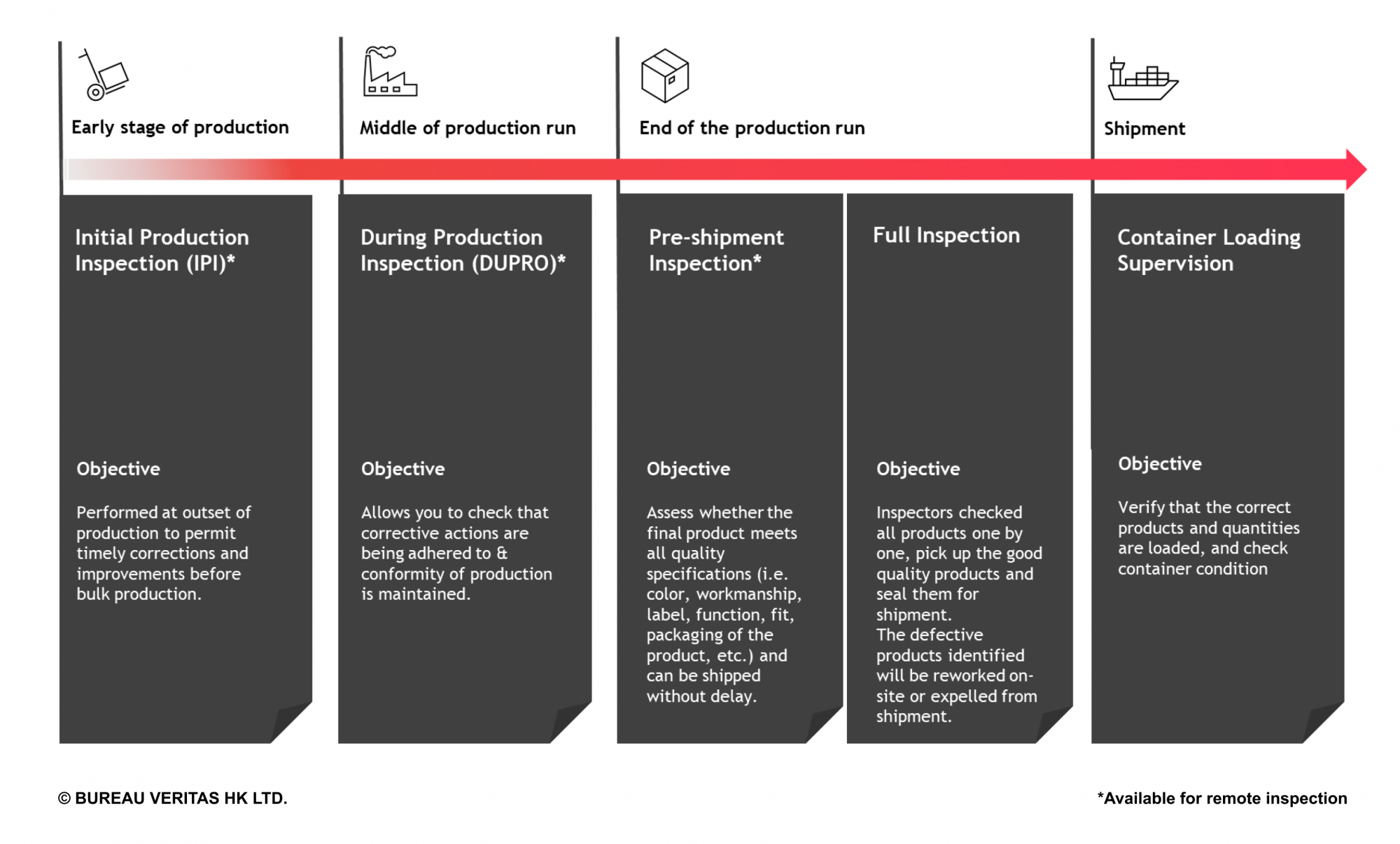 | Inspection services | Focus Area | When to conduct | Is it available on InSpec? |
| --- | --- | --- | --- |
| Initial Production Inspection | Product quality during the initial product stage. | At the beginning of production. | Yes |
| During Production Check | Product quality during production processes. | When 40%-60% of production is completed. | Yes |
| Pre-shipment Inspection | Final product quality, packaging, quantities. | When production is completed and at least 80% of products are packed. | Yes |
| Container Loading Supervision | Correct product, quality, and optimal container condition. | During container loading at the factory/warehouse | Yes |
| Full Inspection | Check every single product and focus on workmanship and basic functions. | Usually at the end of the production before shipment | Yes |
In addition to the inspections that we just mentioned, at Bureau Veritas, we also provide upstream inspection services such as comprehensive inspection, fabric inspection to our clients, and more. If you are interested in upstream quality control services, please feel free to contact us.
Remote Inspection is available for Initial Product Inspection, During Production Inspection and Pre-shipment Inspection.
---
Choosing the Right Inspection Type for Your Business: Key Consideration Factors

When selecting the appropriate inspection type for your business, it's essential to consider various dimensions of risk associated with your products. These dimensions help determine the overall risk level of your products, enabling you to identify the most suitable inspection services for your specific needs.
1.    Level of risk associated with your product: 
In this article, we classified products into three risk categories: low, medium, and high. The level of risk associated with a product is determined by factors such as safety hazards, regulatory compliance, complexity, customer expectations, and more. Below is an overview of each risk category and recommended approaches to product quality inspections based on the risk level.
Dimensions to Consider for Risk Level Identification of Your Product:
Safety and hazards: Assess the potential safety risks and hazards associated with your products, including physical, chemical, and mechanical dangers.

Applicable consumer segments: Consider the target audience for your products, such as babies, children, or adults. For example, products for babies require more stringent quality control measures most of the time.

Style complexity: Evaluate the complexity of your product design, such as embroidery or decorative elements, which may affect the risk level.

Production process technology: Take into account the manufacturing techniques and technologies used for your products, such as fabric dyeing methods.

Materials: Assess the cost, chemical risk, sensitivity, and special functions (e.g., waterproof coating) of the materials used in your products.

Regulatory compliance: Consider the compliance requirements for your products, including safety regulations (e.g., EN71), labeling compliance, product compliance (e.g., cell battery labeling/marking), and material compliance (e.g., ROHS, CA65, REACH).

High-value products: Identify products with special brand, design, or collaboration significance that may require additional quality control measures.

On-time delivery requirements: Evaluate the importance of timely delivery for your products and whether there is a buffer time for rework after inspection.
Here are few examples:
Low-Risk Products
Low-risk products: These products generally have lower safety risks, less complexity, and fewer regulatory requirements. Examples include basic home textiles like curtains and rugs, most Softline accessories like scarves, belts, wallets, and hats, and seasonal decorations like simple Christmas decorations and products.

Inspection approach for low-risk products:
Focus on pre-shipment inspection to ensure product quality, quantity, and packaging.
Depending on the manufacturer's reputation and performance history, you may also consider occasional during-production inspection to monitor production processes and product quality.
Medium-Risk Products
These products have moderate safety risks, complexity, and regulatory requirements. For example, adult apparel (coats, jackets), umbrellas, backpacks, and luggage.

Inspection approach for medium-risk products:
Implement inspection across different production stages with Initial Production Check, During Production Check, and Pre-shipment inspection to ensure comprehensive quality control.
Conduct regular factory audits to assess the manufacturer's capabilities, quality control systems, and compliance with industry standards and regulations.
High-Risk Products
High-risk products These products have the highest safety risks, complexity, regulatory requirements., and customer expectations. For example, baby wear, suits, toys, baby cots/cribs, high-value items like luxury apparel, and products with strict safety regulations like electronics and appliances.

Inspection approach for high-risk products:
Employ a robust inspection strategy that includes Initial Production Check, During Production Inspection, and Pre-shipment inspection to ensure comprehensive quality control throughout the production process.
Conduct thorough factory audits, including quality management system (QMS) audits to ensure the manufacturer's adherence to industry standards, regulations, and best manufacturing practices.
By identifying the risk level associated with your product and tailoring your inspection approach accordingly, you can effectively mitigate risks, maintain product quality, and ensure customer satisfaction.
If you are new to inspection and quality control, please feel free to contact us as our team will support you to identify the risk level of your product. Leave us a message here.
2.    Manufacturer's reputation and performance history
After assessing the risk level of your products, you should evaluate the manufacturer's past performance, reliability, and quality control systems. If the manufacturer has a proven track record of delivering high-quality products, you may choose to focus on critical inspection stages, such as pre-shipment inspection. Conversely, if you are working with a new or poorly performing manufacturer, consider implementing multiple inspection stages to ensure comprehensive quality control.
3.    Factory visit opportunities
If you have the ability to visit the factory personally or send a representative, take advantage of the opportunity to assess the production processes, quality control systems, and working conditions firsthand. This can help you gain a better understanding of the manufacturer's capabilities and identify potential areas of concern. 

If you are not able to make it, we provide a wide range of factory assessment services. It evaluates the production capability and performance of a factory against proven quality principles. 
The core areas and processes addressed by a factory assessment include: 
Quality Management System
Good Manufacturing Practice (Factory Environment Standards) 
Product Control
Process Control
Personnel
The result of the audits indicates the factory's ability to deliver consistent quality management over time and help you make informed decision on supplier selection and improving quality management.

4.    Cost of inspections
Balance the cost of inspections against the potential cost of product recalls, returns, and damage to your brand reputation. While inspections may incur additional costs, they can help prevent more significant expenses and protect your business's reputation in the long run. In a recent blog post, we also study how product inspection can help you maintain your profitability.
By considering these factors and selecting the most suitable product quality inspection type for your business, you can ensure that your products meet the highest quality standards, enhancing customer satisfaction and protecting your brand reputation.
At Bureau Veritas, Product Inspection starts from $288 USD. You get world-class inspection service delivery from our team around the global to ensure your products meet the quality requirements.
Book Production Inspection fast and easy with InSpec by Bureau Veritas
InSpec by BV is the go-to digital solution for product inspection, trusted by top brands and retailers. You can easily book product inspection online for your products and get world-class support from our team to ensure your inspection program is a success.

The benefits of using InSpec by BV:
Global service coverage and customer support
Get world-class support from our on-the-ground global service team with over 1200 fully qualified specialists in over 85 countries across 5 continents.
World-leading expertise in quality control and quality assurance
Get support from our world-leading expertise and decades of experience assessing millions of products and factories for top brands and retailers worldwide.
Fast service delivery and reliability
Our inspection specialists can visit your factory the next working day in most Asian countries. You can get your inspection report on the same day of the inspection. It also allows you to cancel booking up to the day before the inspection.
Easy-to-use digital platform
Book your inspection and audit services online in just a few steps. Manage all your bookings and reports in one place.
Real-time quotation
View the inspection quotation online with no hidden cost.
Please feel free to contact us if you need support.

Bureau Veritas is a world-leading concept-to-consumer supply chain solutions partner working with organizations throughout the supply chain, With well in excess of 100 offices and laboratories spread around the world we are proud to be the quality managers for many of the world's leading brands, retailers and their supply chains.
Inspec is an online booking platform to improve your product quality and reduce returns with systematic inspection and audits, You will experience a fast, easy-to-use booking flow for your product inspection services, and you can book one of our next available product specialists to be at your factory for service as quickly as the next day.
Why bureau Veritas
Why Bureau Veritas?
Bureau Veritas is a world leader in laboratory testing, inspection and certification services. Created in 1828, the Group has more than 80,000 employees located in more than 1,600 offices and laboratories around the globe.
As one of the world's leading third-party inspection companies, our inspection team all undergo rigorous technical qualification and integrity training before performing any type of inspection. We offer standard and tailor-made quality control inspection for a wide array of softline and hardline products.
Bureau Veritas helps its clients improve their performance by offering services and innovative solutions in order to ensure that their assets, products, infrastructure and processes meet standards and regulations in terms of quality, health and safety, environmental protection and social responsibility.
Global footprint and local expertise
Bureau Veritas carries out over 400,000 inspections and audits every year. We have over 1200 fully qualified inspectors across 85 countries in Asia, Africa, Europe, North and South America.
Product expertise
Your product quality inspection is conducted with BV's inspection protocols which are based on our standard practices and decades of experience from assessing millions of factories and products. All our protocols are optimized to meet today's requirements.
Ethic & independent quality control
As the world leader in testing, inspection and certification services, we put ethics and integrity at the very top of our priority list. Our Code of Ethics ensures our staff members maintain integrity, professional competence, confidentiality, professional behavior, and high ethical standards in their day-to-day business activities.