The Vietnamese Manufacturing Surge
Vietnam, in recent years, has emerged as a significant manufacturing hub. With cities like Ho Chi Minh and Hanoi leading the charge, the nation has become a popular production destination for companies in the footwear, apparel, and more. Low labor costs combined with efficient workers have made Vietnam an attractive manufacturing hub. However, with increased manufacturing capabilities comes significant responsibility. It's essential for businesses to maintain consistent quality control measures when collaborating with Vietnamese suppliers.

Vietnam's Consistent Growth in Apparel Exports to the US from 2018 to 2023
For example, if we look into apparel industry and the trade between the US, the world's largest importer, we see a telling trend. 
From the first quarter of 2018 to the first quarter of 2023, Vietnam's apparel exports to the US have shown a consistent upward trajectory. Starting at approximately $2.7 billion in Q1 2018, the figures rose steadily, reaching over $3.09 billion by Q1 2023. 
This growth is even more impressive when considering the global economic challenges and market fluctuations during these years.
Vietnam became the top apparel exporter to US, Q1 2023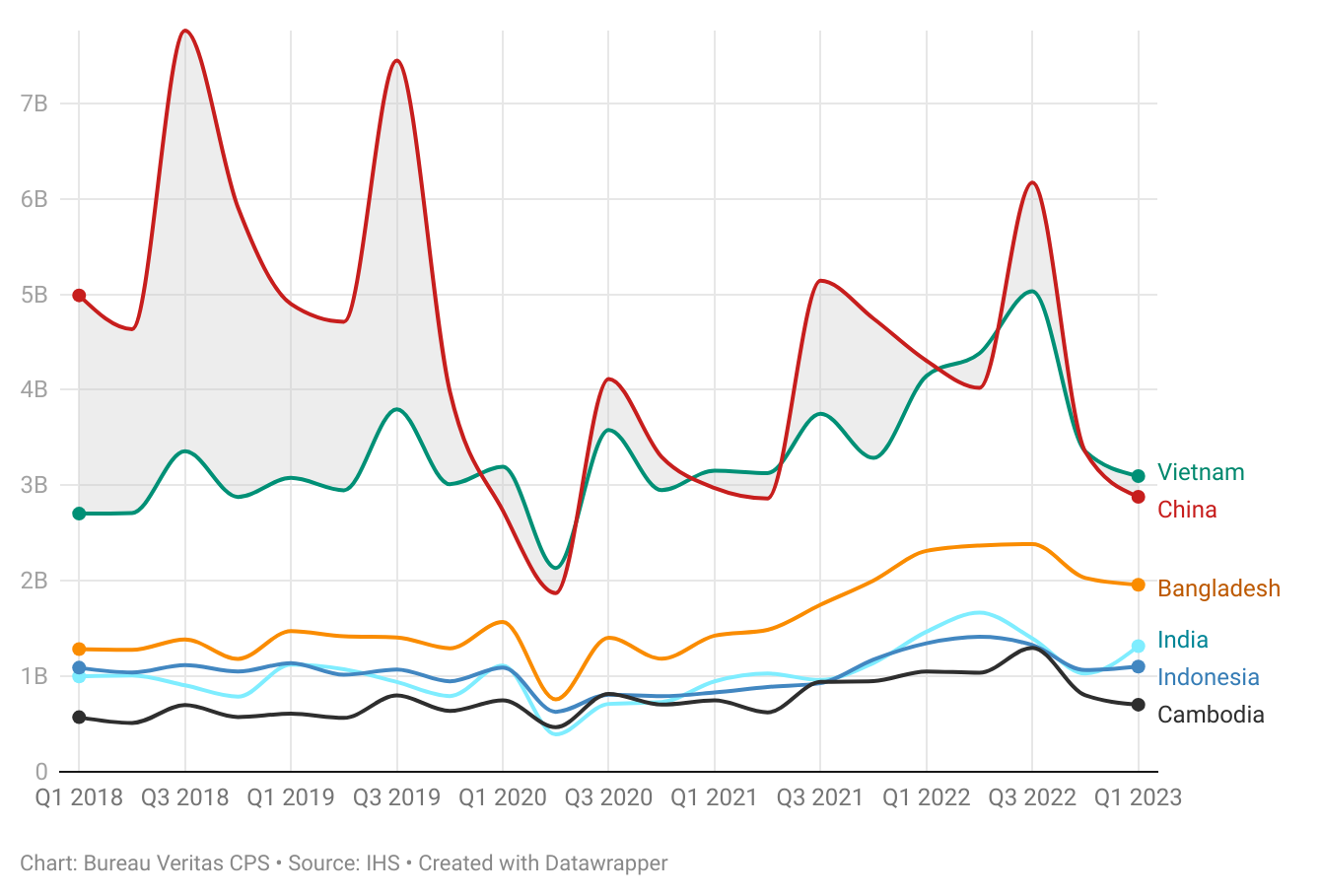 Types of Product Inspection Services We Provide in Vietnam
When you're sourcing or producing products from Vietnam, it's essential to ensure that what you're getting meets your standards. Here's a breakdown of the different types of product inspections you can leverage on InSpec:
Pre-Shipment Inspection (or Final Random Inspection): This is the most popular type of inspection. It's conducted once at least 100% of your goods have been produced and 80% of them are packaged. 
During Production Inspection: Initiated when 40-60% of your order has been produced, this inspection aims to catch any quality issues early on, ensuring a smooth production schedule.
Initial Production Inspection: Typically performed when 10-20% of your products have been produced. It helps identity potential issue with your products during the start of the production stage through verification of the correct raw materials, components, and accessories. 
Full Inspection: Also known as piece-by-piece product inspection or 100% product inspection. It helps verify each product's quality before shipping by inspecting products piece by piece.
There are also other inspections like Fabric Inspection, Container Loading Supervision, and Sample Collection Service available from Bureau Veritas. 

Not sure how to choose the right type of inspection for your business and products? We've created a guide that you can make good use of.

Bureau Veritas also offers a full suite of Comprehensive Supply Chain Solution to help our client optimise their speed to market, elevate product quality, and reduce cost. Leare more here.

Supplier Audits in Vietnam
With the rise in labor costs in China and the imposition of tariffs, many companies are looking towards Southeast Asia for their manufacturing needs. But before jumping in, it's crucial to vet potential suppliers. This is where supplier audits come in. They allow you to assess a manufacturer's capabilities and ensure they align with your requirements.
 
Types of Factory Audits Vietnam we offer on InSpec
Depending on your company's needs, there are several audits you can conduct:
Factory Audits: These determine if a supplier can produce your product and deliver your orders on time. Also, evaluate a manufacturer's quality management system.
Social Compliance Audits: Want to ensure an ethical supply chain? These audits verify that working conditions comply with labor laws. On InSpec, here are the available Social Audit:
•    BV Portal Audit System
•    Sedex SMETA Audit
•    The Social & Labor Convergence Program – SLCP
•    Wrap Certification
Environmental Audits: For those looking to maintain an eco-friendly supply chain, these audits assess a manufacturer's environmental management practices. On InSpec, here are the available Environmental Audit:
•    Higg Facility Environmental Module
•    Amfori BEPI
Bureau Veritas in Vietnam
For nearly three decades, Bureau Veritas Vietnam has been an instrumental part of providing confidence, enhancing trust, and ensuring safety and compliance for our clients. Our presence, with 11 offices and labs, ensures we're always close to our clients, addressing their critical challenges.
At Bureau Veritas Vietnam, we offer a range of inspection and audit services throughout different phases of production processes. These services aim to control quality, verify quantity, and meet regulatory requirements, giving companies the confidence in the reliability and integrity of their products. As one of the world's leading third-party inspection companies, our team undergoes rigorous technical qualification and integrity training before performing any product inspection and audit service. We offer both standard and tailor-made product quality inspections for a wide variety of products.
With these comprehensive production quality management services, we assist businesses in managing and mitigating risks from the product concept stage to mass production.
Book Production Inspection and Audits fast and easy with InSpec by Bureau Veritas
InSpec by BV is the go-to digital solution for product inspection and audits, trusted by top brands and retailers. You can easily book product inspection online for your products and get world-class support from our team to ensure your inspection program is a success.

The benefits of using InSpec by BV:
Global service coverage and customer support
Get world-class support from our on-the-ground global service team with over 1200 fully qualified specialists in over 85 countries across 5 continents.
World-leading expertise in quality control and quality assurance
Get support from our world-leading expertise and decades of experience assessing millions of products and factories for top brands and retailers worldwide.
Fast service delivery and reliability
Our inspection specialists can visit your factory the next working day in most Asian countries. You can get your inspection report on the same day of the inspection. It also allows you to cancel booking up to the day before the inspection.
Easy-to-use digital platform
Book your inspection and audit services online in just a few steps. Manage all your bookings and reports in one place.
Real-time quotation
View the inspection quotation online with no hidden cost.
Vietnam's rise as a manufacturing powerhouse offers businesses a plethora of opportunities. It's essential to have robust quality control and supplier audit mechanisms in place. By doing so, you not only ensure the quality of your products but also foster trust and reliability with your suppliers.
Please feel free to contact us if you need support.