Stone Wash

To achieve the desired faded look, stone-washed techniques should be used. The most popular method is the stone wash during which the denim is washed in the machine with pumice stones. Due to the abrasive process from the use of pumice stone, there's a risk that the fabric will be worn out by the end of the process.
Look for any unintended rips and tears and damages to buttons, waistbands, hems, and rivets produced during the process.
If the clothes have pockets, check that the pockets have been cleaned as dust particles are a by-product of the wash.


Cellulase
If you're looking for an alternative, the cellulase method is an environmentally-friendly, cheaper way of achieving the same distressed look. During the process, enzymes remove the cellulose fibres in the material which results in a lighter tone.
Compared to the stone wash method, the process requires less time and water, while reducing damage to the machines and the fabric. As a result, denim washed using this method lasts longer.
However, observe for marks of backstaining, which is the recoloration of threads. The process could result in blue threads becoming more blue or white threads becoming blue-colored. If this occurs, wash the fabric in surfactants to lighten it.


Perlite
A third option used by many jeans manufacturers is the use of Perlite, a naturally occurring industrial material which expands greatly when heated.
Perlite is used in its heated form to wash denim the same way as pumice stone. However, it isn't as abrasive and gives the fabric a softer, more elastic quality. Compared to enzymes, Perlite also gives denim a longer shelf-life. Unlike enzymes, it also helps the denim achieve a uniform distressed appearance throughout the fabric.


Denim vs. Cotton
When choosing a type of denim for jeans, keep in mind stretch denim isn't as durable as cotton. Although stretchy jeans provide more comfort, cotton will also retain the shape of the jeans. Stretch denim will lose its elasticity due to the constant stretch and pull. If you are a manufacturer who chooses to go with stretchy denim, use denim which has elastane and a stretch of 2-5%. The best denim are produced in Japan and the U.S.


Feel of Denim
Lastly, always feel the denim upon inspection. Good quality denim should feel soft and at the same time, not delicate and fragile. It shouldn't also feel stiff.


Cotton
As the world becomes more conscious of the environmental impact of the fashion industry, there will still be a push towards using sustainable materials. Imperfections and oddities in fabrics will be embraced. Cotton will be one of those fabrics used a lot in 2019. However, be careful of fabric which is labelled 100% cotton. Low-grade fibers are used to keep costs down, or there's actually little fibre in the cloth. Generally, it's best to get fabric made of long cotton fibres.
When examining if a garment is made from long cotton fibres, look for the following signs:
• Soft feel when touching the material
• No pilling
• Density of the material. Hold the fabric to the light. If you see a lot of light coming through, the fabric density is low.
• Look at the threads. There should be no gaps between the rows of threads. There should also be a uniform pattern of rows.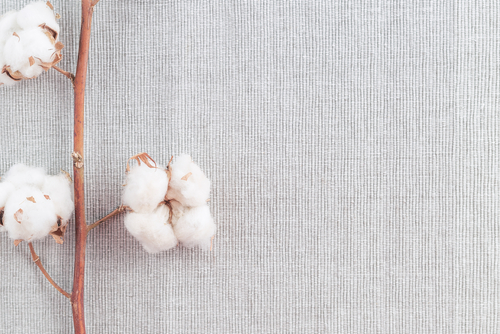 Linen

Another natural material we'll see being used is linen. It's breathable, cooling, and fast-drying. Here's a list of what to look for when inspecting linen:
• As always, touch the material to ensure it feels soft. Linen isn't naturally soft, but if it feels scratchy or coarse, it's likely it has short fibres.
• Check the material for creases which look quite fixed. This is a sign that the material is likely to create strong creases in future which will give a wrinkly appearance. When checking the garment, think about whether it will still look good with deep creases.


Cotton & Linen Blend
If creasing is an issue, a fabric consisting of both cotton and linen can be used to get a durable, cooling, yet soft quality.


Shiny fabric
Shiny fabrics, such as sequins and holographic materials, are expected to be a popular trend.


Sequins
With sequins, check if the fabric has missing or loose sequins. Satin is another fabric expected to be featured in many clothes.


Satin
With satin, you need to check if it's fraying as it tends to do so. It's also prone to snagging which can tarnish the appearance.


Leather
Whether it's genuine or faux, leather will be a fashion staple in 2019. When it comes to genuine leather, there's full-grain leather, which hasn't been sanded or corrected, so the natural grains, fibre strength, and durability are retained. Then, there are the other types, like top-grain leather and split grain leather, which have been more processed. The top layer of the leather has been removed or sanded, so the leather is less durable.


Genuine Leather
If genuine leather is used, here's what you should be checking for:
• Look for tiny grains on the piece. They should look natural and not printed. However, the grains on top-grain leather may have been printed onto the material, so be aware if you see printed marks on this type of leather.
• See if there are any imperfections. Full-grain leather should still have all the natural blemishes, because none of it should have been removed. Top-grain leather has been corrected, so it will look more polished.
• Hold the leather and have a feel for it. The leather should feel supple, not stiff, when you're touching it.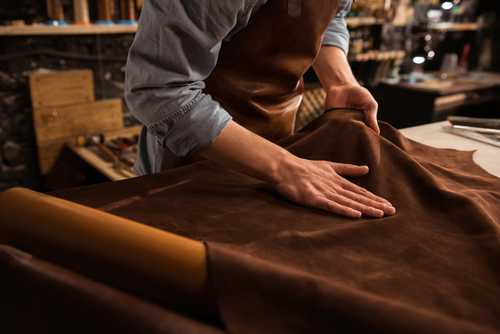 Faux Leather
Faux leather has become an alternative for consumers who are more conscious of animal rights. Here's how to differentiate high-quality faux leather from low quality ones:
• High-quality faux leather is as durable as genuine leather.
• It should also be hard to differentiate it from real leather at first glance.
• Low-quality faux leather has a plastic and shiny look to it.
• When holding faux leather, it should still feel soft and supple
• The material should be light, yet sturdy. If in doubt, choose the thicker material


Common Traits between Genuine & Faux Leather
There are common traits which genuine and faux leather should share:

• For one, there should be no scratch marks on the material.
In addition, it's better if pieces of leather are sewn together, because the stitches will hold the pieces together better.
• If the pieces are glued together, look for any visible glue residue. You should also check to see they are held together quite well.
Top Apparel & Fabric Trends with Inspections Tips for Suppliers in 2019 - Part I