Khaki Fabric
Of course, when the word "utilitarian" is used, khaki comes to mind. Khaki is generally a resilient fabric which doesn't wrinkle much. If clothes made of khaki show some wrinkling, it's not a problem.
Khaki vs. Chino Pants
Often, khaki or chino pants will be identified as cargo pants, because they can be made from the same material and in the same colors. However, they aren't the same, and it's important you take note of the differences during inspections.
The main difference is the number of pockets and their placement:
• Cargo pants have more pockets than khaki pants. Cargo pants' pockets are placed on the side of the thighs and the knees. Khaki pants have side and back pockets which are well-hidden.
• Another difference is cargo pants are mainly made for physical labor, whereas khaki pants are suited for more formal occasions.
Knitted & Woven Garments
For knitted or woven garments, it's best to touch them and feel the material. You need to feel for the following characteristics:
Density, which is the amount of fibre and whether it's tightly packed.
Although a material may be light, the more tightly woven and fibre you can pack into the material, the longer it will last. Such material will also last longer than heavy material which has been loosely woven.
Also do a light test, because fabric manufacturers may add chemicals or substances, such as starch, to make the material feel smoother and heavier when touched. Hold the material up to the light and stretch it. You should be able to see the density and the weight of the material.
For knitted wear in particular, stretch a small part of the fabric and see if it bounces back to its original shape. If it does, the material is less likely to stretch and lose shape. Some knitted clothes are purposely made to have a floaty feel for aesthetic purposes. Be aware these garments are likely to stretch.


Seams Quality

While the quality of fabric is important, so are the seams which join the pieces of it. Here's how you should inspect the seams:
• Seams should be even, flat, identical, and closely spaced. They shouldn't be loose, and there should be no signs of multiple stitching.
• When inspecting them, it's crucial to look at the seams inside, so make sure the hems and less visible areas aren't missed. Sometimes, the stitches are flat on the outside, but loose on the inside. This is a sign of loose stitching which will give way in future.
• When inspecting crotch seams, look for two different types of stitches with one sewn on top of the other for reinforcement.
• Button holes should have clean edges and be sturdy.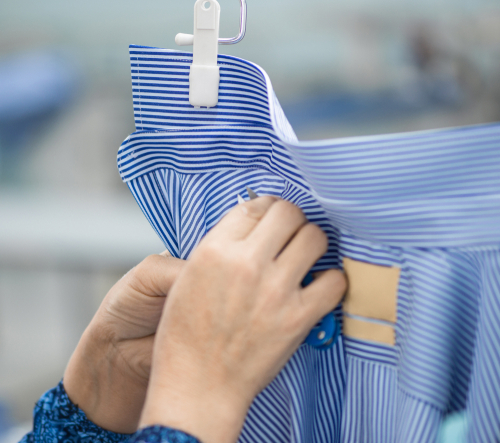 Fabric Cutting
In terms of cutting, fabric should be cut along the grain or on a clear angle, normally at 45 degrees, to allow the fabric to stretch and keep its shape. Collars, cuffs, and waistbands should display interfacing, which is the use of a stiff layer of fabric to give clothes structure. This prevents the clothes from losing their shape. You should be able to feel the layer when you hold the clothes.
Wrap Dresses
Wrap dresses are timeless and considered to be quite flattering on all body types. If the dress is made for plus-sized consumers, use fabric with bigger prints. For petite dresses, choose smaller prints, so the silhouette isn't overshadowed. Wrap dresses are often cut from print fabric, so it's important to use the tips mentioned under the section about prints when inspecting these garments.
Pleated skirts
With pleated skirts, there are several characteristics to look for:

• Curling at the side. Pleats should not be twisted towards the front of the skirt. They should drape down.
• The pleats should be closely spaced at the waistband.
• Look at the lengthwise grainline of the fabric. When a fabric is cut along the vertical grainline, it becomes less flexible when pulled and has more stability.
• Observe the characteristics of the fabric used. It's better to use stiffer materials, such as taffeta, because they are less likely to curl.
Fringe
This year, fringes are making a comeback. A popular fringe style is the fabric strip or leather fringe. When inspecting this type of fringe, one characteristic to look for is uniformity. Generally, the fringes should be of equal length and width, especially if they are cut from fabric or leather. These fringes should also have clean edges.
Brush fringes are fringes cut from loops of yarn. These fringes can get tangled and clumped together. When inspecting these fringes, you will want to touch them and see how they move when in contact with each other. If they are clumped together, take a needle to separate them.
Top Apparel & Fabric Trends with Inspections Tips for Suppliers in 2019 - Part II