The global toy industry is a billion-dollar industry which is expected to continue to grow. As a result, there will much interest in exporting toys to different markets across the world. Ensuring product quality complies with the various sets of safety standards across the world will pose a challenge to manufacturers. This article will help you navigate through the toy industry's diverse safety requirements.
General Rules
To start with, there are general rules and assumptions:
ISO standards do not override the safety standards, regulations, and test procedures of local and federal governments and agencies.
Toys are designed and produced for a certain target group of children. When assessing whether a toy is safe, the development stage of the target age group must be considered. For example, how likely is a child of the target age group to swallow the small parts of a toy? What are the developmental expectations of the target age group?
Apart from self-evident and inherent risk, the toy should pose no risk to the well-being of children in the target market. Can a child reasonably handle the toy without risk of injury?
Adult supervision of children when playing with the toy is still required, because accidents can occur during play. You will need to test if potential injuries are preventable in the presence of an adult.
When assessing the safety of a toy, it's presumed there will be reasonable wear and tear.
Major Standards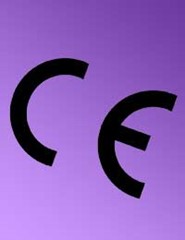 As mentioned, different regions and countries will have their own toy safety standards. Here are the major ones:
EN71

EN71 is the European standard for toy safety. It mostly complies with the European Toy Safety Directive. EN71 also covers toy safety regulations in the UK. In the UK, there are seven standards and a separate standard which governs the electrical safety of toys.
The legislation governs the safety requirements of all toys produced for children up to the age of 14. Products which are not marketed as toys but still have the appearance of one are also subject to EN71. Certain toys, such as toy slings and catapults, are exempted from it. There are six sections to the standards, and they cover different facets of safety, such as flammability, toxicity, and safety markings. All toys imported into Europe must carry the CE mark.

CE Compliance Symbol
Source: http://www.toysadvice.co.uk/images/20622.jpg

ASTM F963

ASTM F963 is the USA Toy Safety Standard. The toy must meet the requirements of the Consumer Product Safety Improvement Act (CPSIA). The goal of ASTM F963 is to uncover any dangers which may not be easily noticed by the general public when the toy is being used as intended. ASTM F963 also outlines the requirements and test methods for toys produced for children under the age of 14. The requirements vary according to age groups.
 
ISO 8124

ISO 8124 standards were developed through the collaboration of experts from different countries, such as Australia, USA, UK, and China. There are 25 participant nations and 30 observer countries. The standards have been adopted or used as a reference in the national requirements of approximately 20 nations, such as Australia and China. The goal of the ISO standards is to create alignment between the world's key standards. Regulations in one market can differ from those in another market. Therefore, compliance with the regulations of one country does not ensure compliance in another.
Although the ISO standards were established to create alignment amongst the key standards, meeting them does not automatically guarantee compliance in every country. A toy must meet each nation's own set of safety standards. Therefore, it is necessary to confirm with each country what are its toy safety requirements.
Test Suggestions 
With variations in standards around the world, it's important to incorporate general best practices in your quality assurance program which cover all the bases. Here are the suggested checks and tests perform during inspections:
Main Tests

Real performance
Tension & Seam
Drop
Flexure
Compression
Flammability
Torque

Safety, Care, and Warning Label Checks
Internal Checks

Mechanical hazards
Stuffing

Specific tests

Humidity test on wooden toys
Smell
Adhesive on logos/labels
Electrical
Chemical
Hygiene
Metal detection
While different regions have their respective requirements, it doesn't mean becoming compliant around the world is a tall order. By establishing quality inspection practices which cover all the necessary areas, your products will be able to obtain compliance. If you still think you need more assistance, please visit Bureau Veritas' website at https://www.bureauveritas.com/home/about-us/our-business/cps for more details on how we can provide solutions to your challenges.